CREDITS
---
---
All images belong to their respective creators and distributers!
All screen captures by *Asuka Jenius and Christian Milik
All image scans by Christian Milik and *Asuka Jenius
All banners, logos and artwork by *Asuka Jenius
Pictures of Asuka Jenius by Christian Milik (yes, they were drawn to look like me, Asuka, and Mylene)
Lyrics for "Remember Love" adapted from a direct (read incomprehensible) translation by *Asuka Jenius
Chronology adapted from The Macross Compendium's Macross Timeline


PLEASE tell me if you take any pictures - feel free to download any for personal pleasure or use on your own page but LET ME KNOW! so i can enjoy it! And please don't take credit for any of my images - you don't have to give me credit, but don't say they're yours. I would appreciate a link back to my page from any page using any of my images; you may use the following banner :



Download it or link to : "http://members.tripod.com/~MJenius/banner.gif" Thank You!
---
---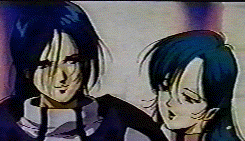 Return to Index
---
This Page brought to you by