---
---
Macross Dynamite 7
---
---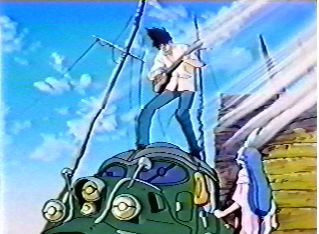 ---
Macross Dynamite 7 is the newest OAV series in the Macross Universe. Taking place one year after the war with the Varuta/Protodevilin, Dynamite focuses on Basara's journey to a new planet populated by the "Zora". He becomes entangled in one Zoran family, father Graham, who is macronized and seeking vengeance on a space whale who was responsible for his wife's death; older sister Liza, a police officer who must go after her father in order to protect the whales; and young Elma, Basara's newest apprentice who wants to follow in her singer mother's footsteps.

CHARACTERS

Nekki Basara Basara has become even more of an introvert in Dynamite; he leaves City 7 without telling anyone where he's gone or why. He continues to try to sing everyone into getting along, but his songs have reached a new plateau it seems...less rock, more, well, spiritia. His improvised whale song toward the end of the first tape is an example of his growth into a serious musician; as Elma says, "So this is what it means to be an artist."

Mylene Flare Jenius Mylene is not her same cheerful self in Dynamite; from the moment we first see her she seems lost and empty of spirit. Basara's disappearance is affecting her greatly and she seems very lonely despite Gamlin's best attempts. She seems older, but also more distant from everyone she cares about.

Gamlin Kinzecki Unlike Mylene and Basara, Gamlin is his old self, doing everything in his power to help Mylene, even if it means going off after Basara. Gamlin truly doesn't understand the bond between Basara and Mylene, but he cares deeply for both. Although jealous as ever, Gamlin always does the right thing.

Elma This ever so cute zoran is not the Mylene clone she appears to be despite her desire to sing and her adoration of Basara. Elma's life has been full of tragedy, but she continues to look on the bright side. Elma worries about her father and her sister both, but she also loves them both. She seems to understand Basara more than Mylene first did and she's very perceptive. And when she sings "Planet Dance" in her own language she's adorable!

Liza Elma's big sister is never adorable but rather harsh with an air of tragedy she can't escape. As a police officer, she must hunt down her own father, as well as other poachers and criminals. She pleads with him to stop but to no avail. Liza is more Basara's age than Elma and she needs to be saved a lot more than her little sister; if anyone can change her, it's Basara.

Graham The sisters' father is something of an enigma. He's been macronized in his quest to kill the white whale responsible for his wife's death. He speaks about as much as Veffidias, but he manages to communicate with Basara by giving him a whale whisker to use as a guitar string. Graham seems to be a good man who has been overtaken by a misguided obsession for revenge.

Ray Lovelock
Veffidias Freaze





Dynamite Images!
---
---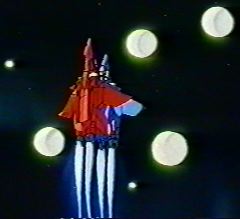 Return to City 7
---
This Page brought to you by