Millia Fallyna Jenius
---
---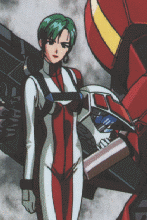 "The list of players was still incomplete when Millia took to the stage; but was there ever a harder act to follow?"





Birthdate : 1994
Hair : Green
Eyes : Green
Skin : Fair
Race : Melantraidi
Rank : Captain
Affiliation : UNSpacey
Position : Mayor, City 7, Macross 7
Marital Status : married 2010 to Maximillian Jenius
Children : Komillia, Emilia, Miracle, Miranda
Muse, Therese and Mylene

---
Ace
Millia Fallyna was the zentraidi's most decorated pilot. She had never been defeated in any battle when she first heard of a famed Micronian Ace who'd bested most everyone else. Proud and confident in her abilities, Millia defied her commander to get a crack at defeating the Micronian and making her reputation as the best even more secure. She didn't count on Max Jenius...
Max
Maximillian Jenius handed Millia her first defeat. Her resolve shattered Millia schemed to infiltrate his ship and kill him herself. She implemented this plan but instead of murdering him, she fell under the spell of the Micronians and specifically, Max himself. He opened her eyes to a world beyond war and battle; he opened her heart to love. Max changed Millia life and heart forever. Millia is very proud and very stubborn; but in her heart of hearts she's only ever loved one man. Though she hides it, their problems and separation are hurting her as much as him, perhaps more as his natural optimism and open love carry him along.
Mayor
As a melantraidi engineered for battle, leaving the military to pursue a political career seems a strange choice, but in fact it is a very typical Millia decision. She was Max's Second-in-Command and no doubt his most trusted ally (she still is) but she remained under his authority. And Millia doesn't like to stand behind anyone, even Max. Instead she accepted the post of Mayor which places her beside Max in authority (this is after all her accustomed position). Millia is a bit overzealous as Mayor, but she is truly dedicated to her citizens.
Mother
Millia never had a mother herself. She was a little wary with her first child, but she has had six more and is now very comfortable in the role. She loves her daughter and worries after her to a near strangling extent. She is short with Mylene as she is with Max, but she genuinely wants to protect her. Millia has let her anger at Max affect her relationship with Mylene as her pride drives her to, but she cares for them both and in her own harsh melantraidi way she lets them know.
Remember Love
Millia knew nothing of love before Maximillian Jenius. She expected to die when he defeated her in the darkened park all those years ago. Instead with but a touch she was changed forever. Millia is a strong, proud woman and she can't handle defeat; but she still loves Max in her own way. Her constant badgering is a result of her complete faith in his ability to solve the problem and win the day. And when she lets her guard down for a moment the love they still share is apparent. Millia will ever love her Max; strong, open, loyal, loving Max who gave her everything.
---
---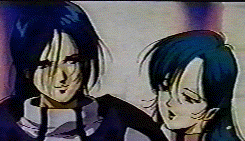 Return to Index
---
This Page brought to you by