---
---
Macross 7
---
---
---
Macross 7 is a sequel to the phenomanally popular series Superdimensional Space Fortress Macross. It takes place 35 years after the end of Space War One. The story centers around a war with a group of "Protodevilin" who thousands of years ago stole the bodies of the "Evil", a group of super beings created by the Protoculture to destroy the zentraidi. The only weapon the fleet has against this powerful new enemy is "song energy", thus the creation of Sound Force - a band that flys into battle and sings at the enemy.

CHARACTERS

Nekki Basara

Basara is the lead vocalist and guitarist for Fire Bomber! and the first of the group to fly into battle and sing the enemy away. He has a fire engine red specially modified VF19 which fires speaker pods instead of missiles. Basara is passionate, enthusiastic, ambitious and incredibly dedicated to his music. He leads his band into the history books and changes quite a few minds about the true powre of song.
Mylene Flare Jenius
Mylene is the youngest and newest member of Fire Bomber! She is almost as dedicated to her music as Basara but she doesn't understand his passion. Eventually she gets her own bubblegum pink valkyrie modified to be a part of Sound Force, but she still wants to fire missles instead of speakers sometimes. Basara regards her as a little kid who just doesn't understand yet; but every once in a while he realizes her own strength of will and passion for music. Mylene has something of a crush on Basara, is wholly devoted to Fire Bomber! and wishes her parents would get over their differences and realize how much their hurting eachother and herself.
Ray Lovelock
A former pilot, Ray hung up his wings for a keyboard after a mission ended in tragedy. Ray is the oldest member of Fire Bomber! and is their connection to the military. Ray is a father figure to the band as he tries to keep everybody in line and happy.
Veffidias Freaze
Veffidias is the full blooded zentraidi drummer of Fire Bomber! She is inordinately tall and never speaks, prefering to drum. Veffidias never stops tapping out a rhythm on whatever surface is available. She shares a valkyrie with Ray as a part of Sound Force.
Thirty five years have passed since the Earth/Zentraidi war and ace pilot Max has risen in the ranks to command Battle 7 and the corresponding Macross 7 fleet. Max proves that ace pilots can grow into compassionate and commanding captains and still retain their fire. Max has to deal with plenty of trouble from the unified army to a uncooperative wife to an overambitious daughter to a new and incredibly powerful and seemingly unstoppable enemy. And he does it. Not all heroes of the past die young or fall away; some grow up to become the heroes of today.
Another hero-ine of the past, Max' melantraidi love has lost none of her edge. As Mayor of City 7, Millia often comes in direct conflict with Max which has put quite a strain on their marriage. Millia strikes fear in the hearts of those around her and she'll still do anything to get her way. Millia has not softened with time, she remains fearless and she expects the best from everyone around her. She remains loyal to her Max in her own loud, angry, possesive, uncooperative, melantraidi way as he remains desperately in love with his bright, beautiful, and powerful Millia.
Gamlin Kizaki
Gamlin is a pilot on Diamond Force, an elite division of the Macross 7 fleet. He is very dedicated to Diamond Force and the fleet. Gamlin is devoted to Mylene and determined to be a good boyfriend to her. He wants desperately to be her hero and this gets him into trouble more often than not. Mylene truly cares for him, but she also adores Basara. Gamlin is eventually put in charge of a new Diamond Force under the jurisdiction of Mayor Millia and City 7. Millia wants a force devoted to City 7 alone and chooses Gamlin specifically, but he sees it as a step down and becomes all the more determined to prove himself. Gamlin eventually becomes a good friend to Basara and Millia's most trusted pilot (save Max, and herself).
Exedor
Another farmiliar face from SDF Macross is zentraidi advisor Exedor. Exedor appears as a head on the bridge at Max side. A zentraidi who declined to be micronized, Exedor is the only one with knowledge of the Protodevilin. They spook him so much, however, he declines to talk about them for a good six to ten episodes. Exedor often assumes the role of Mr. Doom and Gloom, as all his comments seem to have a distinctly fatalistic ring to them. Exedor is Max' trusted advisor and remains the one who knows everything, just as he was for Bretai in SDF Macross.
Akiko Hojo
Akiko is a record producer/manager who knew Ray when he was a pilot. She gets Fire Bomber! their first break and continues to help them out. Her relationship to Ray is strained but close and could be closer if they let go of some of the baggage they carry around.
Dr. Chiba
A Lynn Minmei fanatic, Chiba discovers the healing powers of song - specifically Fire Bomber's song - and is responsible for much of Sound Force's equipment. Chiba is a genius of song energy technology but his enthusiasm for his work can sometimes get entirely out of hand. Dr. Chiba is well liked and is the only military officer well regarded by Basara (at least initially, he grows to respect Gamlin and Captain Max).
Michael
Michael is Millia's huge (but human) assisstant. He is her bodygaurd and her information gatherer - and he's not particularly good at either job. He spends most of his time chasing after Mylene and it is revealed in one episode he takes pictures for his sleazy reporter sister (and is no doubt responsible for the divorce rumors which surround Max and Millia). But no matter, it's shown in one rather humorous "extra" he was hired for his huge hands - good only for massage - anyway.
The next generation of "Bridge Bunnies", these three ladies are the heart of Battle 7's bridge. Sally and Miho seem to occupy the positions Misa Hayase and Claudia Grant held onboard the SDF-01, Kim spends most of her time at a navigation station which is later modified to pick up "sound energy". This leads to a romance with Dr. Chiba and the two become engaged toward the end of the series. Miho and Sally are left to dream about Lt. Dokker (who's one of many to have a crush on Mylene) and Captain Max (who's heart belongs to Millia).
Rex is the leader of an all girls outer space biker gang. She adopts "Planet Dance" as her gang's anthem and soon develops a crush on lead singer Basara. Rex is confident and determined and quite a good leader, but when it comes to Basara, she's shy and quiet - except of course when she's posessed by protodevilin enemy Sybil. Then she's positively forward!
Geppernich
The principal enenmy, Geppernich is a protodevilin whose dreram of a "Spiritia Farm" begins the whole series of attacks on Macross 7 (and Macross 5 as it turns out) and eventually turns her into a "Spirita Black Hole" which threatens to eat up the entire galaxy. Geppernich' gender is an issue as she seems to be a she but from time to time is referred to as a he...?
Sivil
Another protodevilin, Sivil has no such grandiose dreams. She finds herself in "Spiritia Paradise" when she lands on City 7. She is responsible for a great deal of chaos as she incites the zentraidi citizens to attack. She becomes enamored of Basara and his music, but one kiss blasts her into a coma from which only his continuous song therapy will awaken her. Sivil accidentally puts Basara into a similar coma later on and turns on Geppernich because of it.
This young girl follows Basara and Fire Bomber! wherever they go, carrying a bouquet of flowers with her; her intent each week is to bestow them on Basara, but she never reaches her goal. She interacts with each of the characters at some point, all but Basara. She won't give up, though, attending every concert and following Basara to the ends of City 7.
---
---
---
---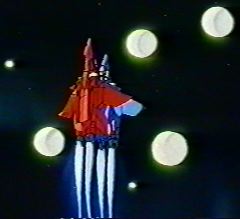 Return to City 7
---
This Page brought to you by